You should consume fresh Spirulina instantly! You can store it in the fridge for 2-4 days (but not recommended).
• Since it is almost odourless and tasteless, you can either consume it with or without a meal.
• Do not consume Spirulina if it's not a dark blue-green shade (yellow/white = dead Spirulina).
• Do not consume if it smells weird/funky.
9.1 Consume in Its Pure Form

​​​​​​​
• For a maximum
bioavailability
of the nutrients, it is best to consume on an empty stomach. Wait 15 minutes to allow the body a good head start at absorbing these living liquid nutrients. Having to deal with any fibre (solid food) slows down absorption.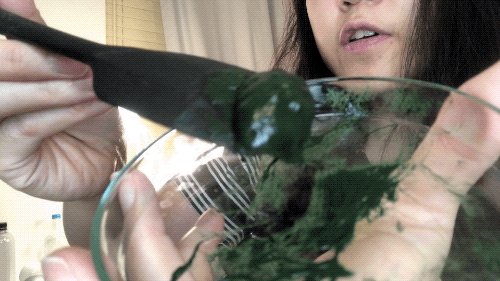 9.2 Mix with Your Favourite Dishes
While it can be incorporated with anything, heated dishes are not recommended. The process of heating kills nutrients. The more raw, the better!
• Spirulina is at its nutritional best when freshly harvested. At this stage, it is also almost odourless and tasteless and can be mixed with any beverage or food.
🥗 Meal Examples 
•  Smoothies
•  Overnight oatmeal
•  Acai bowl
•  Open sandwich
•  Salad
•  Hummus/dips